Sanctions breaches are challenges – satellite data can help stop this.
Satellite imagery provides understanding and insights into a whole range of areas – from insurance and commodities to agriculture and intelligence.
The image below shows coal being loaded into a ship in North Kora, and a breach of sanctions.
This high quality images shows two ships (one larger the other smaller), with their doors open, at different piers. The very high level resolutions, allows detailed understanding what is happening.
This can provide insight into the commodities being traded (coal), he volumes of coal being delivered, as well as the frequency and therefore the demand.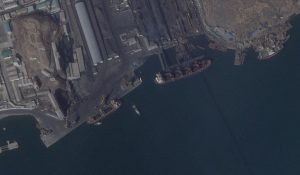 Coal at the docks in North Korea