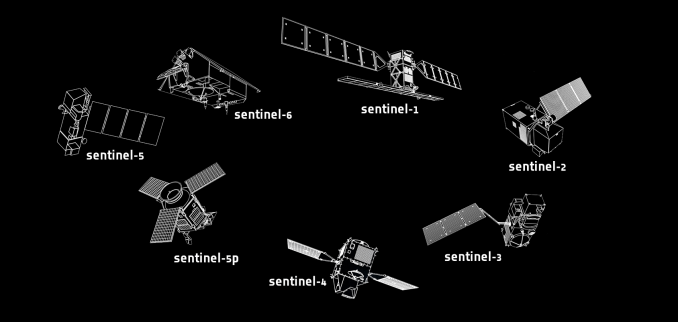 ESA's  COPERNICUS
Program
Copernicus is the most ambitious Earth observation program to date. It will provide accurate, timely, and easily accessible information to improve the management of the environment, understand and mitigate the effects of climate change, and ensure civil security.
SENTINEL-1 (S-1) is a radar satellite, which provides the ability to see at night, see through clouds, and provide millimeter accuracy when measuring elevation.
As S-1 is a radar satellite it doesn't generate typical images of earth that can be seen by the human eye. S-1  generates data that requires analysis and interpretation  – providing entirely new insights into our world.
SENTINEL-2, part of ESA's Copernicus program, is actually two separate two satellites –  SENTINEL-2A and SENTINEL-2B.  2A was launched on June 23rd, 2015 and 2B was launched two years later on March 7th, 2017. 
Both 2A and 2B are optical satellites, with multiple wavelength detectors, primarily for monitoring changes on land but can also work over water.
The instrument on S-2 gives it the ability to capture amazing imagery – e.g. the Great Salt Lake in Utah, or algae blooms).
This data can help a wide range of industries from insurers to fish farmers and from commodity traders to city planners.  
SENTINEL 3, launched in 2016, is a satellite mission whose main objective is to measure the sea and land temperatures and colors, sea-surface topography, and provide climate monitoring.
SENTINEL-3 currently has three satellites, S-3A, S-3B and S3C, but will be expanding to 4 with the addition of SENTINEL-3D in 2021.
SENTINEL-4, launched in 2019, is the heaviest of the Copernicus missions at 3,600 kg. Unlike SENTINEL-1 and SENTINEL-2 which have a low orbit (around 700km) S-4 has this orbits at nearly 36,000 KM in a geostationary orbit.
It has the ability to measure a variety of areas, including those listed below. It can also provide frequent updates allowing for "near real-time" applications
Air Quality measurements

Stratospheric Ozone monitoring

Solar Radiation measurements

Climate monitoring
SENTINEL-5, launched in 2020,  is ESAs fifth mission as part of the Copernicus Programme.  Like its predecessor SENTINEL-4, it is focused on monitoring climate and air quality – providing data on a wide range of areas, from pollutants such as NO2 to the state of the Ozone later.
One of the most obvious differences between 4 and 5 is the enormous difference in their orbit. SENTINEL4 orbits at nearly 36,000km, however 5  orbits at 800km. The two missions have similar instruments onboard, with the former using 3 bands and the latter using 7 bands