SENTINEL-4 mission is part of ESA's Copernicus program. SENTINEL-4 was launched in 2019 and is the heaviest of the Copernicus missions at 3,600 kg. Unlike SENTINEL-1 and SENTINEL-2 which orbit at around 700km, this orbits at nearly 36,000 KM in a geostationary orbit.
S4, like SENTINEL-5, is focused on monitoring of pollutants and traces gases in the atmosphere, including:
Air Quality measurements

Stratospheric Ozone monitoring

Solar Radiation measurements

Climate monitoring
This data will monitoring of air-quality in near-real-time applications, with its high revisit time.  SENTINEL-4 will be sampling 8 km over Europe, a fast repeat cycle over Europe and North Africa (Sahara), of just 60 minutes.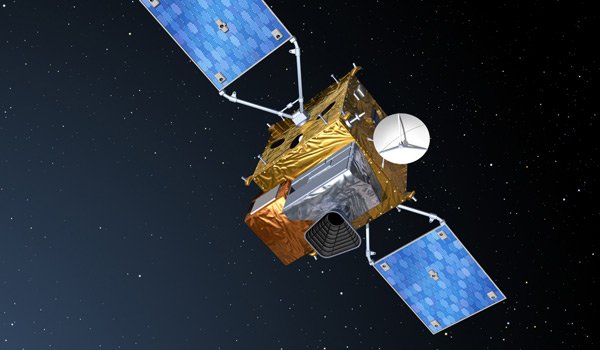 The Sentinel-4 instruments include a high-resolution spectrometer with three bands ultraviolet (305-400 nm), visible (400-500 nm) and near-infrared (750-775 nm). SENTINEL-5 has seven bands. 
SENTINEL-4 Technical Details
Band

Spectral range (nm)

Spectral
resolution (nm)

SSD
(Surface Sample Distance)

SNR @ 50ºN, 15:00 UTC, Equinox, albedo 0.05 (UV-VIS) & 0.15 (NIR) (per spectral sample)

Spectral sampling ratio

Species

UV

305-400

0.5

8 km

200 – 1000

3

O3, SO2, BrO, HCHO, AAI, AOD, Ring

VIS

400-500

0.5

8 km

1400

3

NO2, O4, IO CHOCHO, AOD

NIR

750-775

0.12

8 km

600

3

Cloud, Aerosol
Spectral
Parameter
UV-VIS values
NIR values
Comments
Wavelength range
305-500 nm
750-775 nm
Spectral Resolution/Spectral Oversampling
0.5 nm/3
0.12 nm/3
Oversampling is Resolution divided by spectral pixel sampling
Spectral Calibration Accuracy
0.0017 nm
0.0020 nm
Geometric and Temporal Coverage
Parameter
Value(s)
Comments
Spatial Sampling Distance (SSD)
8 km (E/W) × 8 km (N/S)
On-ground-projected SSD at reference point in Europe (45°N latitude; sub-satellite-point longitude)
Integrated Energy
70% over 1.47SSDEW*1.13SSDNS90% over 1.72SSDEW*1.72SSDNS
Integrated energy is a measure for the spatial resolution of the instrument
N/S slit field-of-view (swath)
4.0°
E/W coverage & Repeat cycle
See Fig. 2
See Fig. 2
Daily Earth observation time
Summer max: 01:40 – 21:40Winter min: 03:40 – 19:40
Adjusted to seasonally varying solar Earth illumination on monthly basis
Spatial co-registration
Intra-detector: 10% of SSDInter-detector: 20% of SSD
2-dimensional (E/W & N/S) absolute co-registration
Radiometric
Parameter
UV-VIS values
NIR values
Comments
Optical Throughput
~50% (in UV)
~60%
End-to-end scanner-to-detector
Radiometric Aperture
70 mm
44 mm
Circular diameter
Earth Signal-to-Noise-Ratio (SNR)
UV: >160VIS: >1600
759-770nm: >90Rest NIR: >600
For specified Earth radiance Reference scene
Earth Absolute RA
< 3%
< 3%
For Earth radiance & reflectance
Sun Absolute RA
< 3%
< 3%
For sun irradiance
Polarization Sensitivity
< 1%
< 1%
Relative Spectral RA
< 0.05%
< 0.5%
For a spectral window of 3nm (UVVIS) and 7.5nm (NIR) and for reflectance only
Relative Spatial RA
< 0.25%
< 0.25%
For Earth radiance & reflectance
  Power
212 W (average in operating mode)
  Mass
200 kg
  Data
25.1 Mbps (instantaneous, during acquisition)
  Number of units
Three (3): •Optical Instrument Module (OIM), which contains the optical and detection part•Instrument Control Unit (ICU)•Scanner Drive Electronic (SDE)
  Dimensions
OIM : 1080 x 1403 x 1785 mmICU: 460 x 300 x 300 mmSDE: 300 x 200 x 100 mm